Mizuno Wave Inspire 17 shoe review
Mizuno Wave Inspire 17: "No matter what your next move is, the new MIZUNO ENERZY heel wedge, increased cushioning and updated fan-shaped wave get you there in the softest way possible." 
Details:
SUPPORT: Stability
HEEL TO TOE OFFSET: 12mm
WEIGHT: 9.2 oz women's / 10.9 oz men's
USE: Road Running, long runs
SURFACE: Road, track, urban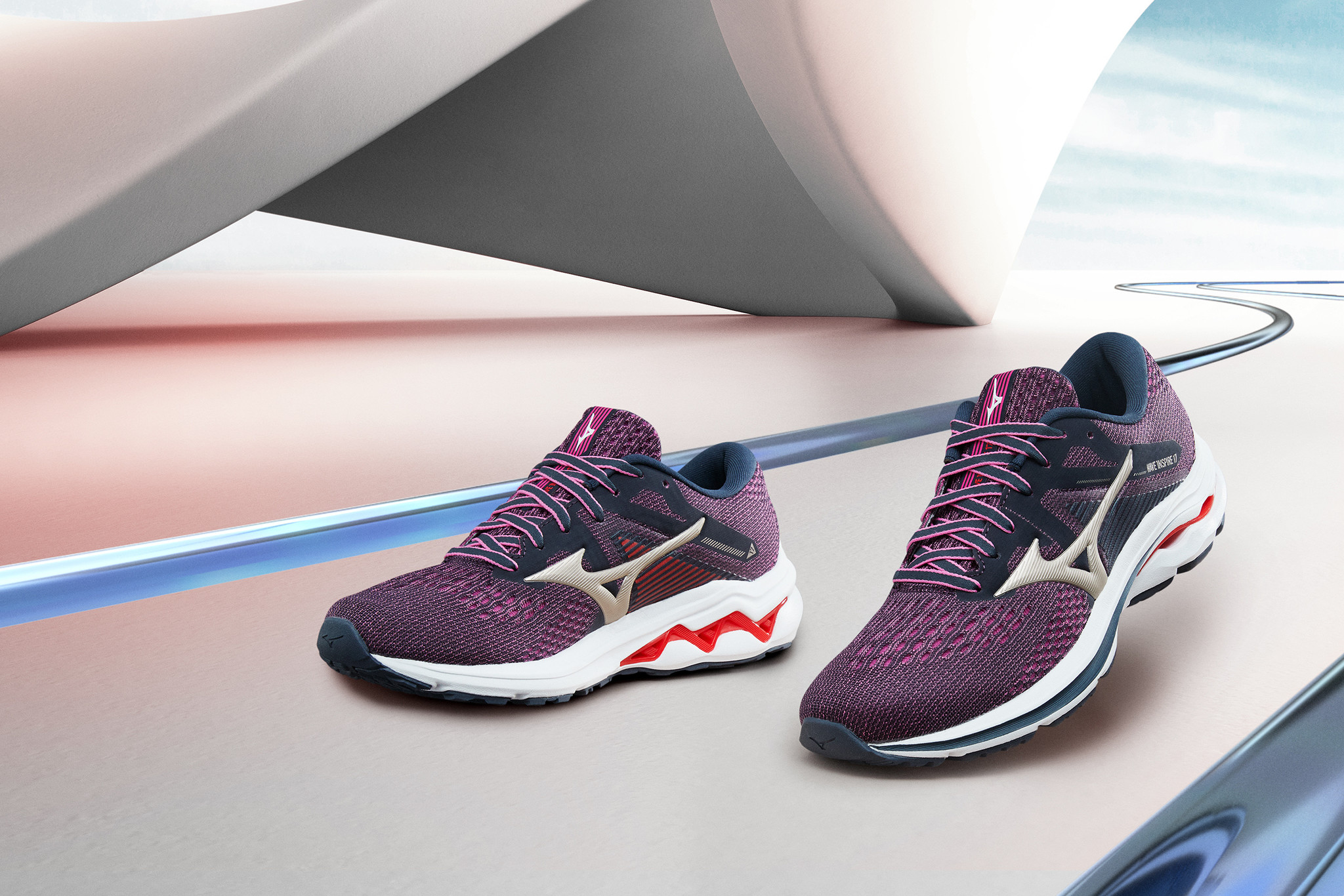 Reviewed by Scoob: This new model by Mizuno was a huge improvement in my opinion. They tried and succeeded in making the shoe wider and softer, while also keeping that firm energy return that Mizuno fans like.  
If the shoe fits:  
Mizuno is attempting to move into a softer shoe market while keeping their dynamic and responsive midsole. In this shoe they have their Mizuno Enerzy heel wedge which I really enjoyed. It feels bouncy and gave me a springy ride. I think the shoe could have more curvature so when you go towards the toe is doesn't feel like I am slapping down the front of the shoe. The upper mesh allowed my feet to breath and stay cool. For those looking for a thicker upper material this shoe comes in a plush waveknit option as well. The tongue is secure but also thicker for anyone who doesn't like the think gusseted tongues. My favorite thing about this new model is that they gave more room in the toe box. It gives my toes some room to wiggle and prevents any blisters or hotspots. At the same time, the heel cup is nice and super secure. The support, along the inside of the foot to counter any overpronation, felt stable. Overall, this shoe is one of the most supportive I've tried. 
Performance Review:  
I do not regularly run in stability shoes but I have been trying the Mizuno Wave Inspire 17 on days when my legs are a bit beat up by mileage, for some added support. I have done a handful of runs in these shoes, anywhere from 4-10 miles. Like I mentioned above I felt that they were super supportive and bouncy. The toe box felt great, and the rest of my foot was locked in and secure the whole time without being too tight. The energy return is elite. The heel drop on this is 12mm and because of the TPU plate you feel every millimeter, it feels high. While this doesn't really bother me, some people might dislike it if they are coming from a lower heel drop. The good news is, if you are having back issues the higher heel drop in this shoe can help accompany your road to recovery by taking some of the load off your back and transferring it to your knees. Like I mentioned above the front of the shoe felt somewhat flat and when going heel to toe I felt like I was slapping the front of my foot down. I am used to and appreciate a curved bottom or meta-rocker technology that helps smooth this transition out. This shoe still performed well regardless of this, but I think that is something Mizuno could approve on. This shoe was a smidge heavy and since it felt a bit clunky for me, I wouldn't recommend it being used for any speed work simply long runs and easy runs. 
Previous Model: Wave Inspire 16 - The 17 is a complete redesign, specifically with the stability posting and the addition of the ENERZY midsole. So the Wave Inspire 17 is now more stable and softer than the 16.
Comparison: The Wave Inspire 17 compares to shoes like the New Balance 860, Saucony Guide and Asics Kayano.
Conclusion:  
Anyone looking for a super supportive stability shoe needs to try the Mizuno Wave Inspire 17. The updates to this model are awesome. Make sure, when I say 'try', I really mean TRY. You need to run(or walk with some purpose) in this shoe to feel the energy return and dynamic stability that Mizuno put in it. Come by the store to try them on, we are getting some sweet colors this fall/winter too!